The time, income and service squeeze does not just cost younger generations.  It costs us all. In response, the New Deal for Families would reduce the price we pay for the status quo squeeze.  Specifically, it would:
Reduce price business pays for avoidable absenteeism, avoidable employee turnover, and rising health care premiums
Reduce education costs because there are fewer children with additional support needs.
Reduce crime costs among youth and young adults by one-third, because children who experience quality early care at home and in the community are less likely to engage in criminal behaviour; and because reducing generational inequalities decreases the risk of social confrontation.
Contain and sustain medical care expenditures, because the New Deal will produce a healthier generation of young children, who will in turn become a healthier population.
Promote Truth & Reconciliation, because the New Deal addresses what Residential Schools robbed from Indigenous families and communities. Generate additional taxation, because more employees are retained in the labour market.
Promote gender equality, because the New Deal will eliminate barriers that reinforce the glass ceiling, and invite men to share equal opportunity to care at home. Advance pay equity, because the New Deal will value the care that parents and early childhood educators provide.
Reduce our carbon emissions, because the New Deal will encourage Canadians to spend more time together, and less on stuff. "Stuff" has a higher carbon footprint.
Improve the quality of the future labour supply in Canada, and our economy's resulting human capital and competitiveness, because children who are school ready when they start kindergarten are more likely to be job-ready when they graduate. The New Deal will have no net cost to society in the first full year of implementation, if each Canadian adult values these social priorities at just 36 cents per day.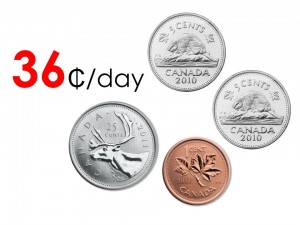 If we value these priorities at more than 36 cents per day, then the New Deal provides a return on investment in the very first year. Benefits continue to grow thereafter. Long term projections reveal that the New Deal will return $6 for every $1 invested over the working lives of children who start kindergarten today.